Everyone needs extra cash this time of year…
"Discover 4

Easy Ways You Can Earn Cash By Christmas

…Using Nothing But Your Computer…"
Great for New or Experienced Marketers!
Dear Friend,
Christmas is an exciting time of year, but it's also one filled with fear for a lot of people. There are gifts to buy, taxes to plan for, and bills to pay. For some reason, it all seems to pile up at once in the month of December.
What would you give to make that monetary stress go away?
It doesn't matter who you are or how much success you've had…
You Need Extra Money in December…
Whether you're feeling a sense of desperation, or you have some "wants" to get for yourself or others, there is no better time than December to have a cash infusion.
But what's the answer? How are you going to get the extra cash you need?
What would you say if I told you there are 4 easy methods you can use, starting today, to fill your bank account with cash BEFORE Christmas arrives?
You'd probably think I was nuts…
However,
You Really Can Earn Significant, Extra Money Before Christmas!

Listen, I realize there are a ton of folks out there telling you how to make easy money. If you've been in business for a while, then you're probably sick of all the false promises.
That's not what I'm about — I'm about tried and true methods that WORK.
The truth is that it's NOT that difficult to start earning right away (even during the holidays…in fact, that can give you an advantage!).
Proof…or I Wouldn't Be Here Today (You Can Do This Too)

Around 4 years ago, I was completely new to making money online. I didn't know which end was up! I was very lucky to have run into folks (who I started to follow religiously!) who knew what they were doing.
By emulating their success, I was almost immediately able to make a full time income for myself.
Throughout the past 4 years, I've had to become innovative to stay on top of the crowd. That has meant some great income for me!
This guide includes personally tested and successful methods including selling your own product (FAST creation techniques even if you hate writing), list marketing, affiliate marketing, providing services, and more.
The truth is that there are methods in here for you, no matter whether can write or not!
That's not to say it's going to be "push button" instant income. You are going to have to work for it. At the same time it's easy!
(ALL comments bellow were originally posted on the WarriorForum.com, when this offer was first posted)
Quote:
Originally Posted by
TheCopyGirl
When Jenn showed me this, I told her that she's absolutely squashing every excuse I have for not taking my business to the next level
And it's true! I can see this stuff working out for me – for anyone – the content EXTREMELY actionable, and I can say with confidence that if you are willing to act on the advice here – any one of these methods with a suitable dose of focus will definitely pull in the extra happy cash in time for Christmas.
From my own little experiences, I know that some of the suggestions work exactly as advertised – but Jenn's "spins" set this report totally apart
I can't wait to implement the spins and watch the profits grow! Again, just one of her clever spins could be worth many many times more than the trivial investment that you are going to make today.
Enjoy, act, and profit.
Quote:
Originally Posted by
dreamweaver08
Jenn, this offer is outstanding, yet that is what I know to expect from you!
Full disclosure here, got a review copy, and purchased. I wanted the PLR – lol.
When you purchase, you'll be given a "behind-the-scenes" look at Jenn's business. How many times do you get the opportunity to see how a person truly runs their business?
The content is stellar, the writing engaging and the "twists" Jenn offers are pure gold. She offers us a step-by-step to cash before Christmas, and well into 2012!
As I read through the content, I just kept shaking my head at how "transparent" you are about the way you go about your business and the steps you take, which we can choose to copy and profit with.
Yes, it will require work, and so worth it!
Thanks Jenn for sharing your business model and the way you implement it. You are a great teacher!
Happy holidays to you!
Martha
Quote:
Originally Posted by
Doug Wakefield
Being on Jen's list, I bought this package last night.
I read about 4 pages in and already found a way to return my investment by 5x, without actually reading the methods lol.
The methods, however, are top notch. She gives you a great idea to make some fast cash, and then gives you a twist in order to attack the market in a way that many people refuse to for various reasons. I make money with two of the methods already (without the twists), so I can verify they work.
Method 4 is a direction that I really have wanted to take, but in the opposite way she mentions. Thanks to a recommendation in the guide, this will be rather painless to set up (and removing my current option to make room for it makes me the 5x ROI without even touching the guide.)
Well worth it. Any of these methods can make your money back in 1-2 sales, even as this WSO gets more expensive.
Quote:
Originally Posted by
arrow77
Exclusivity of the content is a major factor in this product. You will want to find out how. That's all I'm giving away as a hint on how this will take your copy-writing to the next level.
She gives you step by step by step exactly what and how to do itThere is no rehash like other PLR's I've bought!
"THAT GIRL" is super organized which means I can be super organized too. No more worries if I'm doing what I need to do or the order I need to do it in.
It would be beyond me why anyone wouldn't want to pick up this marvelous offer while it is still at this low point price.Thanks Jenn you really have me going on the "Right Track"!
Great for NEWBIES + those who have been doing this for awhile will save them time. As this WSO is so organized you can almost get your Christmas Cash blind-folded…and if you should need help with something Jenn has great customer service. Plus she doesn't make me feel like a dummie on the techy stuff. That alone is worth the price!
No, I'm not an affiliate yet but soon hope to be. Just sharing my experience with That Girl for other Warriors.
Casey
Quote:
Originally Posted by
ruch1v
Jenn's stuff always rocks, just been flicking through and see tons of neat ideas to make an extra couple of bucks quickly.
Christmas is never a great time to be low on cash, so if you're stumped for ideas I'd recommend you jump on this
Thanks for putting this out Jenn
As I write this message, we are in the 2nd week of December. That means…
"If You Put the Pedal to the Metal, you WILL be Earning by Christmas"
It's time to put the past behind you and ramp up your income NOW.
I've purposefully made this guide available at a very low price. That's because I know times are tough, especially if you're new to earning online. There are also some of you who might be more experienced, and want an idea generator at a price that isn't going to break the bank.
Despite the low price, I'm sure you'll agree that this is one of the best buys you've picked up all year — the perfect way to close out the season.
In this guide, you'll discover:
Exactly what you need to do if you want to follow in my footsteps, and start earning today…even if you've never made money online!
Why you don't want to do this…and why doing so will hinder your success, forever
The one simple step you need to take before trying any of my methods…this will make or break you
Methods for product creation, freelancing services, and affiliate marketing…something for everyone! (and each of them with a spin that ensures you stand out from the crowd and earn more, no matter what
********How to guarantee yourself you earn money by Christmas…and why this is the time you will finally succeed (no matter how long you've been trying)********
Earn Cash By Christmas — 4 Methods at a Super-Low Price
Act today so you can get started right away.
*Note* There is an opportunity to grab PLR to this guide (making you money right away!) after purchase, in one of my now-famous non-sketchy One-Time-Offers.
Hurry — this is on a special low price, and is well worth the tiny investment.
*** If you have a coupon, enter it on the JVZoo checkout page*** 🙂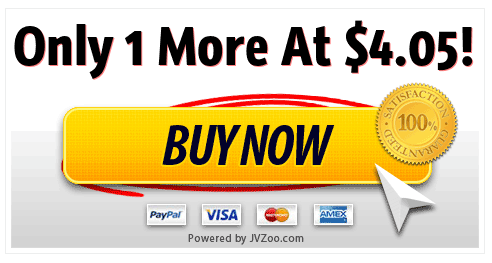 ~
Jenn the Writer
P.S. What are you waiting for? Christmas is upon us, and it's time to earn that extra cash you deserve. After you read this, you'll feel invigorated and alive with excitement as you take online marketing by the horns and succeed! Grab this guide today, and set up your business easily and quickly to earn by Christmastime.